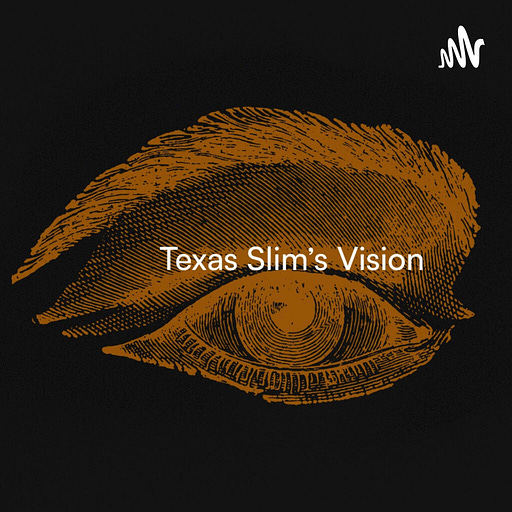 Feb 26 • 33M
I Am Texas Slim
-Just Breathe and let it flow
We talk about #FoodIntelligence, the Texas Beef Initiative, and how to design an "International Lifestyle" that you can start from home.
What I've been listening to…
Yes I understand
That every life must end
As we sit alone
I know someday we must go
Oh, I'm a lucky man
To count on both hands
The ones I love
Some folks just have one
Yeah, others they got none
Stay with me
Let's just breathe
Thank you for listening to my message.
Subscribe to our new Instagram account
---
Don't miss this week's podcast, I Am Texas Slim, EP 16: Texas Slim down under with Mike Scanlan
In this episode:
Intro to Mike Scanlan

Leaky gut

Desperate to change

Lifestyle 

Having market access

15 years of regenerative 

Wolki Farms recap

Hearing their story

Voice of the ranchers

Podcast suggestions

Hey Doc Baker

Local wildlife

International Beef Initiative 

Value4Value Weekly boost messages
---
Featuring the Prime Box
---
Our newsletter subscribers can get 10% off at Clara and Fritz Tallow Shop, a family-owned shop specializing in providing clean, simple skin care. 
"Clara and Fritz Tallow shop was born out of a years-long red-pill experience. Beginning with dabbling in the world of minimalism, we began questioning everything that we had previously considered normal as far as how we were conducting our lives. This led us to overhaul our diets and finances, and to seek out alternative solutions to our food sources, the products we consume, healthcare, news sources, etc. After years of following knowledgeable people in the space, we decided to give tallow skincare a try after trying a long line of expensive "clean" products that just didn't work very well. The positive results were so staggering that we became instant believers and wanted to share the product with others and join the movement to bring back traditional skincare and foods."
-Clara & Fritz
---
Remember, we are grass-fed and grassroots!
Coming together as a community is the only way to take our future back from corporate giants who believe they can kill off the American rancher. We're stronger than they think, especially when we work together. Join the revolution by donating whatever you can give. Every single donation goes towards rebuilding a better way of life for ourselves and, most importantly, our children.
---
Looking for #volunteers to become a part of the movement
You can also donate your time and talent. Get on the front lines and volunteer from home with our team. No contribution is too small. Everyone can play a part in the fight for our future.
In need of the following:
Content writers
Audio/video editors
Need help with merch/drop shipping expertise
Passionate social media folks
Sponsorship experts
Please reach out to texasslimtour2023@gmail.com for details.
Thank you and God Bless you all. 🤝
-Slim
Get to work folks. This is a call to action.
No More Excuses🤝