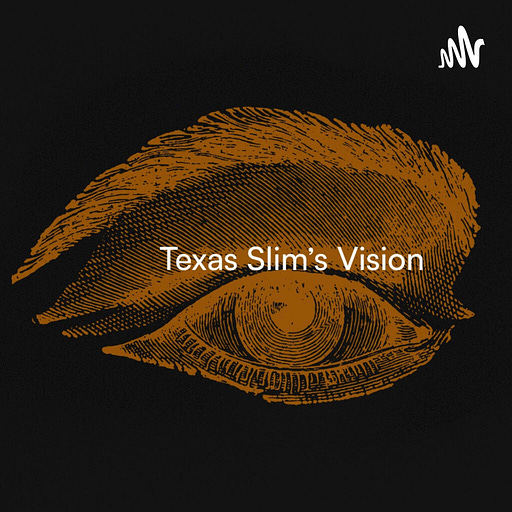 Jan 22 • 17M
Podcast Pick From Within Our Community: Pomp with Texas Slim
A Focus on Our Community Is Imperative to Success
We talk about #FoodIntelligence, the Texas Beef Initiative, and how to design an "International Lifestyle" that you can start from home.
What I'm listening to….
It's getting harder to find tough
There ain't a scuff on no boots
Seems these days that a man ain't got a thing to prove
Boys I grew up on back breaking
Hard labor and calloused hands
And if you've got a problem step out back and take a chance
Thank you for listening to my message. This week, we're honored to have K.D. Makinen as our guest writer. K.D. is taking this opportunity to learn as much as she can, to share her interests and insights, and to build a community that explores, teaches, and contemplates together. She wants to make thinking sexy. You can follow her on the Passing Thoughts & Revelations Substack.
Take it away, K.D…
Podcast Pick: Pomp with Texas Slim
There are infinitely more great podcasts to listen to than there is time; it's literally impossible to hear them all. Trying to choose which ones make the cut can be time consuming as well. Because of this unfortunate reality, I thought a podcast spotlight might be a nice feature every once in a while.
I slip podcasts in whenever I can and I've learned so much from them. Why not recommend some of my favorites in case it helps someone else settle on a winner next time they have a bit of time to sneak one in?
The Pomp Podcast tends to examine the world of business and finance, which inevitably ends up covering a vast number of topics. In this episode, Pomp speaks with Texas Slim, who founded "The Beef Initiative". It turns out Texas Slim is also right here on Substack, in case you want to learn more once this conversation piques your interest. The primary discussion is regarding our food supply chain and all the issues that plague it. It is a bit alarming, but we'd all be better off, and much healthier, if we took the time to face this particular monster.
There is talk of seed oils, which I vowed recently to remove from my diet. (I will be posting an update on how that is going pretty soon.) The more I learn about our food system and the motivations (and the audacity) of the corporations that lord over it, the more I feel compelled to consider not only removing seed oils from my diet, but all corporate food as well. A diet such as this would require consuming meat from sources such as the Beef Initiative, but would go further to source all fruits, vegetables, breads and other items, such as honey and cheese, from local farmers markets, farms, boutique producers and my own kitchen. The kitchen part referring to homemade bread or baked goods, salad dressings and other items where seed oils might be hiding.
It seems to me that a diet such as this would appeal to many people. Which is great, because the market will accommodate the desires of the people. But as always, when greed and corruption infect an industry, there will be pushing back from those who would rather not lose power. This is precisely why I decided to share this particular podcast. There is considerable potential for sustainable and healthier systems of food production, but there are also those who wish to suppress this potential and force the current corporate system that has little to do with the nutritional needs of human beings.
Because knowledge is power and because we vote with our dollars, this podcast is of great importance if we wish to continue to have the option to choose for ourselves how we nourish our bodies. Government involvement in bodily autonomy has been in the headlines recently; our right to feed ourselves as we see fit is certainly an extension of that. I hope you find this post informative. I'd like to say I hope you enjoy it, but that might be misleading. I wish we could enjoy hearing about how efficient, regenerative and nutritious our food supply chain is. It seems we have a bit of work to do if we want to make my wish come true.
---
Don't miss this week's podcast, I Am Texas Slim, Ep. 12 - Slim's Solo
In this episode:
Podcast updates

Beef Initiative growth

Lack of communication skills

Pure animal protein

Texas Slim's Cuts

Decentralized market access

Keeping it local

health crisis is upon us

Come along and volunteer 

Texas history

Story time with Slim

Saving the children

Calling you out Joe Rogan

What's your story

Jason Wrich and the foundation

Jimmy Dean

Proud of market access

Holding your breath

Bringing beef intelligence 

Get a micro summit

Texas truck 

 Closing thoughts 

 Value4Value Boost the Beef! 
---
Featuring Texas Slim's Top Hand Beef Box
---
Did you know that subscribers of my substack receive an exclusive discount with Farrow Life?
https://Farrow.life/tbi is the link for 15% off any purchase.
Best phucking skin moisturizer on the planet AND donating 15% of all TBI proceeds to the scholarship.
Appreciate you helping me spread the lard!!
---
Remember, we are grass-fed and grassroots!
Coming together as a community is the only way to take our future back from corporate giants who believe they can kill off the American rancher. We're stronger than they think, especially when we work together. Join the revolution by donating whatever you can give. Every single donation goes towards rebuilding a better way of life for ourselves and, most importantly, our children.
---
Looking for #volunteers to become a part of the movement
You can also donate your time and talent. Get on the front lines and volunteer from home with our team. No contribution is too small. Everyone can play a part in the fight for our future.
In need of the following:
Content writers
Audio/video editors
Need help with merch/drop shipping expertise
Passionate social media folks
Sponsorship experts
Please reach out to Shawn at shawn@beefinitiative.com for details.
Thank you and God Bless you all. 🤝
-Slim
Get to work folks. This is a call to action.
No More Excuses🤝